Why learn how to vlog you ask?
Well, at GoCreate Academy we believe your story matters and vlogging is a great way to share your story in a fun and creative way.
There's no denying that learning how to vlog in 2019 is a great idea, as it can seriously skyrocket your online visibility, brand awareness and reputation overnight!
In recent years many well known YouTube celebrities have built entire careers from vlogging, and it's now considered to be the content of the moment, and the norm amongst internet marketers, social media influences and online entrepreneurs.
One of the most iconic names in vlogging: Casey Neistat, pretty much single-handedly introduced vlogging to the world, and created a style of filmmaking that's fun, stylish and entertaining to watch.
As a result, he's become a hugely successful vlogger and one of the highest earning YouTubers of all time.
Check out his estimated Net Worth!
So, whether you're planning on vlogging to build brand awareness, promote your business, tell the world about your travels, have a career change, or just looking to learn a new skill, learning how to vlog is a great step in the right direction to achieving your goals.
Here's why you should learn how to vlog and start your vlogging career today!
What Is A Vlog?
Well, the most common answer to that question is that it's a term which derives from video blog or video log, and was previously considered to be a blog that contained video content.
However, the vlogosphere has changed a lot in recent years, moving from just uploading video content to a blog, to focusing more on uploading content directly to a dedicated vlogging Youtube channel or other video hosting platforms like Vimeo.
Whilst blog posts aren't obsolete, it's certainly a great time to shift focus to video content creation and harness its power to reach your audience.
Also, the numbers don't lie, as more than 500 million hours of video are watched on Youtube each day, proving the demand for video content.
Anyway, let's have a look at where to begin!
Vlogging 101: The Basics – How To Create A Vlog
Ok, so now we know what a vlog is, let's dive into the basics and grasp an understanding of the different stages involved in the vlogging process.
1. Exploring Your Topic
If you already have a blog or podcast, you'll understand the importance of exploring your content topic and researching what you're going to write about or discuss.
The same principles apply with vlogging.
Even though vlogs may seem to be spur of the moment pieces of content, usually the creator has spent time deciding what they're going to film and built a structured storyboard or plan accordingly.
So, we recommend starting by exploring and researching your chosen topic in detail and figure out what you want to talk about before filming anything.
That way, it will feel a lot more comfortable when you come to point a camera directly at your face, as you'll know exactly what you'll be going to talk about.
Then, try and find out what your audience wants to watch and see what they're searching for.
There are lots of ways you can do this, for example, you can start by doing some basic keyword research using the Google keyword planner.
Or, you can type in related questions or phrases into YouTube's search box and see what appears at the top of the results.
This will give you a genuine indication of what's popular and what people actually want to watch.
Then have a look at what's currently trending on Youtube and find content that's similar to the style you would like to create, and use that as your inspiration.
2. Creating Your Vlog
Ok, so now you're ready to get your hands dirty and actually start recording.
First things first, now that you know what your topic is, pick up the camera and start filming.
If you're unsure what camera to use or the gear you need, we cover everything you need to know in our latest vlogging course, or, check out this guide on the best cameras for vloggers.
Something to bare in mind is it's not going to be perfect right off the bat, so don't try and focus on perfection and becoming the next Ben Brown or FunForLouis overnight. Instead, stick to your plan and keep the camera rolling in between shots as you never know what you'll record.
Audiences want to see interesting things that they might not see every day and people also like seeing other people make mistakes and be open and honest about it, as it makes the creator much more likeable.
So don't be afraid to try different things in your creative process.
Focus on telling your story the best way you can and remember to have fun.
3. Editing Your Vlog
Now that you're done with the vlogging itself, you're ready to move into post-production, or in vlogging terms… editing!
For some, this can be a tedious and frustrating task, but for most, the GCA team included, editing is awesome, as it's when your plans start to take shape.
So, to actually do the editing part, and assuming you have no experience at all, you need to use some sort of video editing software.
"What video editing software should I use?"
Well, as someone that's looking to learn how to vlog, you'll most likely get overwhelmed with the sheer amount of video editing software at your disposal, from the very basic entry level stuff to the super fancy and expensive software.
We recommend starting out with whatever is already installed on your computer or smartphone.
For example, if you use MacOs, then try out iMovie, as it's beginner friendly and easy to use.
Alternatively, if you're a Windows person, you can use Movie Creator to get started and begin to familiarise yourself with the timeline, editing tools and the whole editing process in general.
Once you're comfortable with editing and have a good number of vlogs under your belt, you'll then have a better understanding of the things you like and don't like about the editing process, and can use those opinions and preferences when you're ready to upgrade your editing game and try a premium editing program.
To keep things simple for you, here's two well known reliable tools that many Youtubers and media professionals use on a daily basis: Apple Final Cut Pro X & Adobe Premiere Pro CC.
Both are fantastic editing tools, but each has their own unique pros and cons. Don't just take our word for it though, check out this awesome round-up of the best video editing software of 2019 and this video editing guide.
If you're more of a visual person, then watch this handy comparison or Ben Brown edit his vlog in Adobe Premiere Pro CC.
So, now that you've edited your vlog and you're happy with the final product, it's time to tell the world about the vlogging masterpiece you've just created.
Advertising & Marketing Your Vlog
Ok, so if nobody knows about the awesomeness you've just created, how do you expect anyone to watch it!?
It goes without saying that telling the world about your vlog is going to be a nerve-racking experience, and understandably so. It might even provoke some unwanted criticism.
However, that's just part and parcel of uploading your creative ideas and life to the internet, not everyone will agree with what you have to say, but that's totally fine, as you've already done the prep work and designed your vlog around what "your" audience wants.
So, as you start to spread the word about your vlogs, welcome any constructive criticism you receive, as you can use it to grow and develop your vlogging style even more!
Here's 5 ways to reach your audience:
1. YouTube
This one's obvious and goes without saying, but often gets overlooked.
Start by creating and building out your YouTube channel.
Again, you don't need to be super fancy here, just make sure people know what your channels all about, by filling in the "About" section, including some links to your other social media accounts and recording a nice introduction video of yourself, so your audience can put a face to the name or brand.
Have a look at our channel for inspiration. When in doubt…keep it simple!
2. Social Media
This is your biggest friend and probably your best asset when you're first starting out, as their completely free to use and super easy to get up and running.
Begin by choosing social media channels where your audience is located, create a profile, and start uploading your vlogs.
Even better, links to your vlogs can be posted automatically when you upload it to YouTube, so you don't even have to think about it.
Once you have your social media accounts set up, you can use some really handy web applications like Hootsuite or Buffer to listen out for mentions and comments on your vlogs.
Then, you can start to schedule your social media posts once you're ready to ramp up your marketing strategy even more.
3. Website & Blog
Next, we move on to your own website. If you haven't already established a brand yet or you're currently working on creating your personal brand, having your own website can really help get those much-needed eyeballs on your vlogs.
However, in the beginning, it will be difficult to get traffic to your site, so we recommend adding a blog that caters to answering your audience's main questions. Then, embed your vlogs into the blog posts and share those on your newly created social media accounts.
Once you've done that you can start tracking all this data using each social media platforms in-built analytics software and or outside resources like Google Analytics and Social Blade.
Over time, the traffic to your website will grow and you'll begin to build momentum and receive more views, shares, comments, likes and all that good stuff.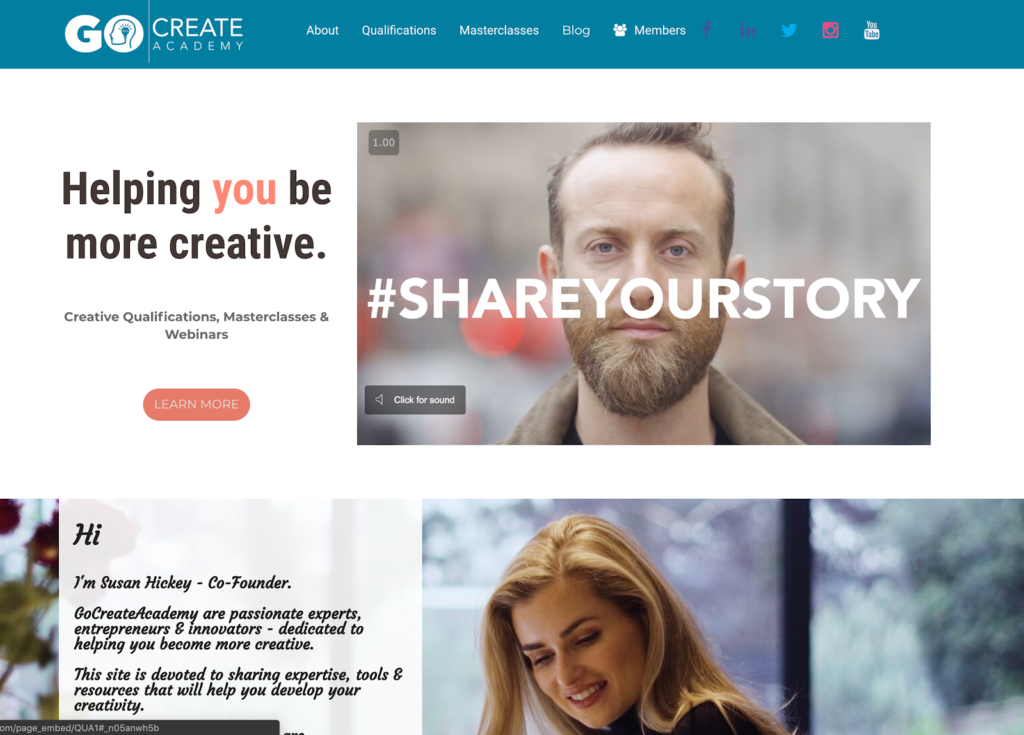 4. Networking
This advertising strategy also deliberately gets overlooked, usually due to fear of criticism or personal confidence. However, this is such a great strategy to get your vlogs in front of your audience.
Start by telling close friends and family, see what their thoughts and opinions are and ask for feedback.
This will give you more confidence to then attend industry related networking and media events to start telling people about your YouTube channel, website and blog.
You can share your newly created social media accounts with them in person there and then.
So don't be shy, you've created something amazing that people want to watch and you'll most likely be pleasantly surprised at the outcome.
Oh yeah… you're now a vlogger, so vlog these events and upload them to your channel so your audience can follow your journey!
5. Paid Advertising
We saved this one until last as it involves spending more money.
But, if it's within your marketing budget, then running a PPC campaign would significantly help drive immediate traffic to your website or YouTube channel whilst you also grow your audience organically.
Again, there's a lot of choice for running PPC Ads, but we would recommend starting with a small Facebook Ad campaign as you have a lot of options to target your audience.
So, hopefully, that's given you some good ideas on how to get started advertising and marketing your vlog.
What Now? How Do I Become a Successful Vlogger?
Ok, so as we mentioned before, the best way to start vlogging and become successful is to create a plan, pick up your camera and get started.
Don't leave it any longer than you need to, otherwise, you'll never do it and you'll look back on a missed opportunity.
Start creating the vlogs you imagined today, and more ideas and opportunities will follow as you progress and gain confidence.
Irish couple Jonathan and Anna "started uploading video blogs to YouTube in 2009 and have gradually built one of site's most popular channels."
This just shows that with a little persistence, commitment and imagination, you can build an audience that loves your content, enjoys watching you grow and looks forward to your next vlog every day.
If on the other hand, you still feel like you're lacking knowledge or overall confidence in your own ability, and you would prefer a more complete step-by-step guide with clear tutorials, real-life examples and practical exercises, then our guided online vlogging course, taught by leading industry professionals might be more suited.
Our Vlogging DipLCM course covers everything we outlined above plus a whole bunch more in-depth information to prepare you to become a qualified vlogging sensation, and fast-track your way to vlogging success.
Not only that, but you will also gain an industry recognised accredited qualification that you can use when applying for work or higher education.
So, check out our course and get started vlogging today!
And don't forget… your story matters!